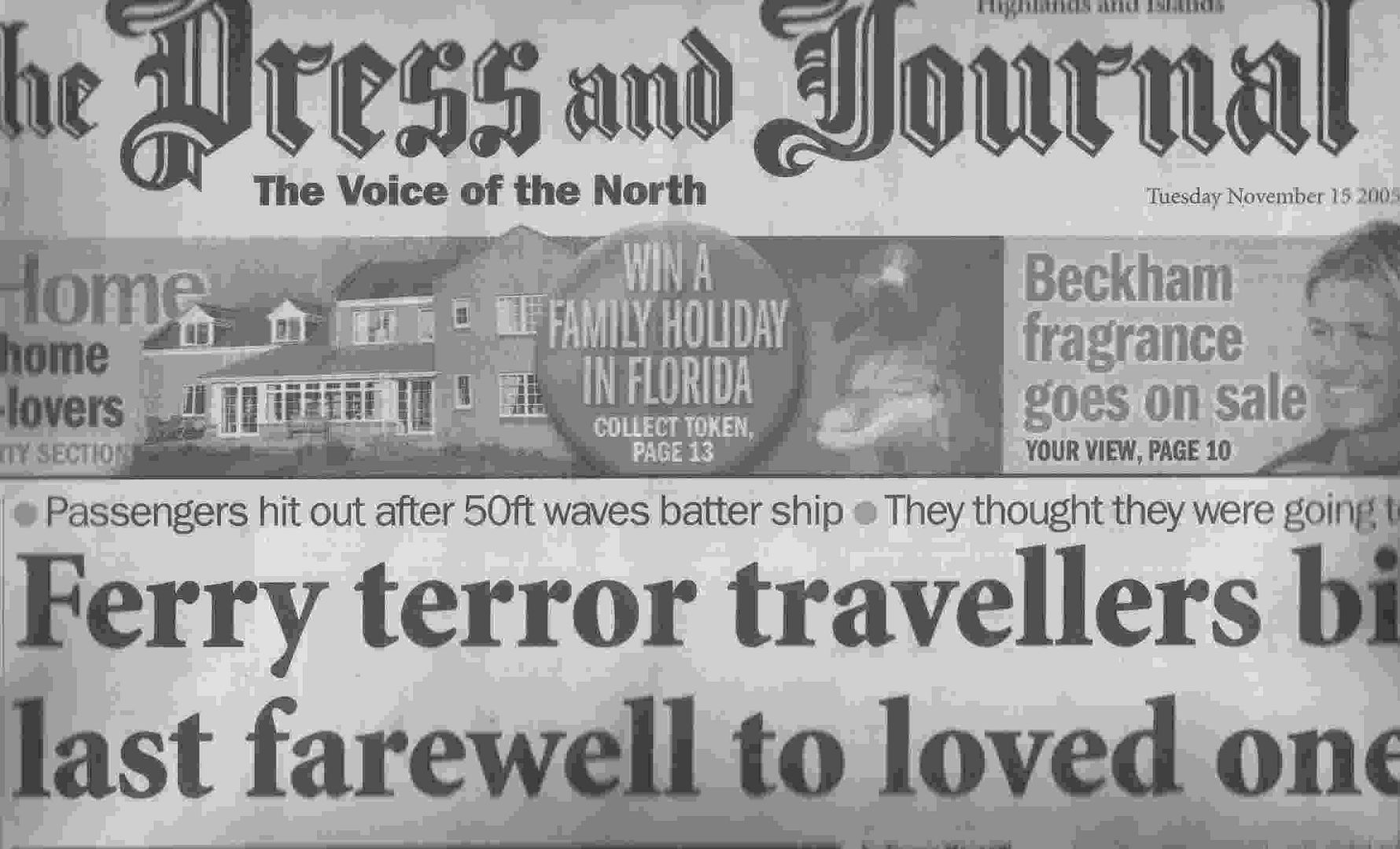 The Press and Journal - 15/11/05
Passengers hit out after 50ft waves batter ship
They thought they were going to die


By Fergus MacNeill

Terrified passengers on a storm-tossed ferry to the Western Isles were in such fear for their lives they wrote farewell notes to their loved ones. Now two agencies and the vessel operators are investigating why the MV Muirneag set sail from Ullapool across the Minch to Stornoway when, according to the Met Office, severe gales with 80 mph winds were
forecast by its Aberdeen staff. But the ferry operators yesterday defended Captain Alan Smith's decision to sail on Friday, saying the weather took the crew by surprise and was not forecast to arrive until lateer. The storm hit the Muirneag when she was about 2 hours into what should have been a 4 hour crossing. But it was more than 17 storm-lashed hours later that the ferry struggled into Stornoway Harbour at 3.30 a.m., after being pounded by 50 ft waves. At one point, the ferry ended up 18 miles north of the Butt of Lewis in the Atlantic, as Capt Smith desperately tried to outrun the storm. Passengers say he attempted to turn the vessel into the storm 15 times to reach Stornoway. Cars and lorries were damaged on the lurching vessel. Steven Collins, 22 of Bragar (Lewis) was rescued by Stornoway Coastguard helicopter after suffering concussion when he was flung to the deck. Angry passengers criticised the skipper and ferry operator Caledonian MacBrayne for allowing the vessel to sail.
Kenny Smith, from Arnol, said: "I started writing a farewell letter to my wife and children. I thought I was dead and would never see themagain. It was madness to sail with that storm coming". Paul Collins criticised CalMac after his 1961 classic Rover car was destroyed. He said: "Lives were put at risk. I'venever been so terrified in my entire life. That boat was in serious trouble - I really believe we were going to die. The captain tried over 15 times to turn the ship and failed. It was ignorant and arrogant of CalMac to allow that ship to leave Ullapool."
The Muirneag was on charter to CalMac from Glasgow-based Harrisons Clyde and carries mostly road haulage vehicles daily across the Minch. Yesterday the Marine Accidents Investigations Branch MAIB and the Maritime and Coastguard Agency MCA were investigating the voyage. CalMac now faces paying thousands of pounds compensation for the damaged vehicles. Container units owned by MacAskill Haulage were thrown off supporting trestles while two units crushed another belonging to D.R. MacLeod and cargoes of fish-farm food were flung to the deck. Philip Preston, operations manager at CalMac, said the captain was completely taken by surprise by the storm and tried to find safety by heading north and outrunning it. He said: "The vessel sailed from Ullapool at 10.15 a.m. and was expected in Stornoway at about 2.30 pm. The bad weather forecast was supposed to be coming through later in the afternoon, and it hit them completely out of the blue. The vessel had no option but to run ahead of it, heading north. I would not criticise the master, he did well to get the ship in eventually. We will co-operate with any outside agencies. We are assessing the damage at the moment and are speaking to our insurers.
Last night the Met Office said they had issued their first storm warning for the
Minch at 3 am on Friday, valid from 10am to 11pm, forecasting severe gales gusting to 80 mph. MCA spokesman Mark Clark said: "What we are looking at is how those vehicles on board the ferry were lashed to the deck, and what caused the slippage of the cargo. If you get slippage, this does affect the stability of the craft. London-based David Stewart, spokesman for the MAIB said: "We are talking to the operators and the owners and it may, or may not, go to a further investigation. We will know that in the next week or so."
Yesterday, the Muirneag failed to sail from Stornoway because of badweather, but many lorry drivers refused to go on board in any case after their ordeal. Some food was scarce in island shops as a result of the weather disrupting ferries.
The Isle of Lewis sailed empty from Stornoway on Sunday with recurring engine problems. She missed sailings last week after her main engine broke down. She was repaired briefly for a voyage across the Minch, but it took her 12 hours. Her replacement, the
Clansman, was weatherbound in Loch Broom all day, but ventured out after 5pm. She was due to arrive in Stornoway after 8pm.
Husband's poignant letter to his wife and children
Kenny Smith wrote a poignant farewell letter to his wife Carron and children - Kieran (5), Jack (3) and Kenny (nearly 2). The couple were married 3 months ago and are expecting a baby next year. With tears splashing onto the paper, he wrote:
"Dear Carron,
I love you so much. These are the last words I'll ever say to you. I will never see you again. I don't know what will happen tonight, but I will not live to the end of the night. Our time together was precious to me. I love you and the kids. You all mean the world to me. I would not have changed anything for the world. I am sorry I cannot be with you any more. Our life together was so complete. Our wedding was the best day of my life.
I will always love you and will cherish you forever - Kenny

The troubled journey of MV Muirneag on 11 November 2005 - an hour by hour account by its passengers
10.10 Leave Ullapool
12.00 Approaching Lewis. Crew and passengers have lunch. Extremely rough seas. Passengers surprised tosee MV Muirneag heading north up the Minch, passing the ferry Isle of Lewis, which is hugging the Lewis coastline.
16.00 Passengers kept in the dark. Alarmed when they spot the Butt of Lewis lighthouse, 25 miles from port. Passengers were never told they were heading so far north.
17.00 Damage begins. Lorries smash on lower deck. Oilspill makes deck hazardous. Passengers anxious and are told ship is turning back. Instead, she continues 30 miles further into the North Atlantic.
18.00 Impossible to turn back in hurricane, despite numerous attempts. Loud bangs below. Lorries screeching as they lurch in heavy seas. One trailer hits steps. Container units collapse.
21.00 Ship pitching and rolling in high waves. Vehicles constantly scraping and moving. Passengers emotional and frightened. Steering very difficult. Unable to turn south against sea. Passengers grip on to furniture and each other.
22.00 Cars sliding on greasy deck. Loud noises below accentuate fears. Two passengers have showdown with captain on bridge. Demand information.
22.15 Hurricane winds. Steven Collins flung out of seat by violent force of rolling ship. Smacks his head against wall and crashes with a fellow driver. Driver falls under table and gashes leg. No crew to administer first aid. Struggles below to retrieve bandages from his lorry. People afraid.
23.00 Eighty mph winds. Fearful passengers make "final" calls to loved ones. Emotions heightened after mobile phone batteries lose power. Some write farewell letters to family. Noise and damage below continues.
(Saturday morning)
01.30 Casualty suffers concussion and is airlifted off in heavy seas. 18 miles out in the Atlantic. Winchman warned of rolling car on deck. Seaman caught by winchrope, saved by winchman.
02.00 Passegners scared, angry and emotional. Want captain to shelter in Broad Bay in lee of land. Vessel finally turns south after about 20 attempts
04.00 Fights heavy seas to enter Stornoway Harbour
05.00 Drivers ordered to leave vehicles.